David McRobert - Director and Co-founder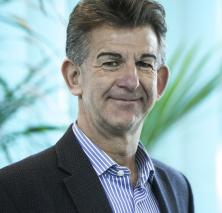 David is a chartered aeronautical engineer having graduated with an honours degree in Aeronautics & Astronautics. He has worked in engine MRO with Rolls-Royce, H+S Aviation / Dallas Airmotive and Honeywell. His roles included engineering, programme management, marketing and business development, plus commercial and military operator customer support worldwide.
He was Marketing and Business Development Director at H+S, then Managing Director of Honeywell's UK engine services business. He then led the Oxford commercial airline pilot training business for BBA Aviation in the UK and USA (now CAE Oxford Aviation Academy) and was also responsible for London Oxford Airport.
Subsequently with McAlpine, he founded and launched PremiAir in 2003, gaining major experience in rotary wing and private jet business aviation and police air support markets, and also co-founded CTC McAlpine in the UK and New Zealand, the ab-initio commercial pilot training business (now CTC Wings). In 2011 David joined Kapco Global, the commercial aerospace supply chain services business, where he led both UK operations and Kapco's global corporate strategy process.
Contact us now